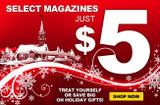 A quick inspirmercial... Today you can get 12 issues of Country Living for just $5! And there's lots of others too. Click the photo and take a peek...
Can you believe it? I got the email yesterday afternoon and several telephone calls after that advising that the Jesus birthday party would be rescheduled, the helpers meeting would not take place, etc. so... I decided to stay in my pajamas the whole day! Free as a bird...
We watched Pride & Prejudice (Can you imagine I'd never even read the book?!) and I finished reading
The Shell Seekers
(It's in our Library now). It was such a lovely book that I highlighted a few quotes to share...
-"Penelope was hatless and majestic in layers of ancient brocade and velvet..."

-"She adored old clothes and spent much of her time and money scouting round the stalls of Petticoat Lane, buying droopy evening dresses from the 1930's..." (I want to shop at a store called Petticoat Lane... perhaps even live on Petticoat Lane... my address: Polly @ Petticoat Lane.)
-"She remembered that marvelous room at Christmas time with the sprucy smell of the tree and Christmas cards strune everywhere, like washing, on lines of red ribbon."

-"I learned how to live within myself, to grow flowers, to watch my children grow; to look at paintings and listen to music. The gentle powers. They are quite amazingly sustaining."

-"So don't brood on imagined injustices. Otherwise you'll end up with the worst kind of spiritual indigestion, all twisted and bitter."

And my favorite...
-"
Do lovely for each other, I've always thought
."
Here
are 10 ideas to turn the holidays into holy days...