I opened the August issue of Country Living today and there was a surprisingly familiar picture (by Wendell T. Webber). If only I got paid for having the idea all by myself BEFORE the magazine came out =)
Ok, now on with a new inspiration... My 13 year old neice made this pop-tab bracelet...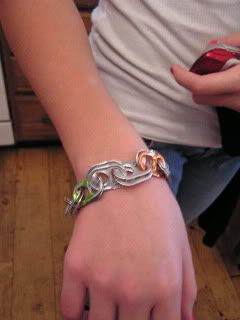 31) That He cares about even the silliest requests
32) Doctors who will call in prescriptions at 4:10 p.m. on a Friday for a patient on vacation (my youngest - sinus infection)
33) My 10 year old neice who is so preciously kind that she plays nicely with her much younger cousins
34) The most perfect 70 degree, sunny days! Last year our beach days were miserable for the adults because it was wretchedly, dangerously hot!!
35) Digital cameras - because I LOVE taking pictures
36) Not having sand in my sandwich...